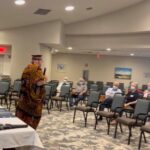 Cross-Border Legacy Foundation was honored by the Hill Side Village Community, Keene New Hampshire, USA 🇺🇸 last Thursday October 14th in their theater.
Responding to the invitation of this Senior Assisted Living facility, the selected delegates of the Organization's Board of Directors, led by Professor Emeritus George DOBGIMA NYAMNDI thrilled them on DEMYSTIFYING AFRICA and CAMEROON.
Our hearts 🥰 go to Lorie King Rogers (Director of Community Life Enrichment) and to our indefatigable Board Members Reverend and Mrs. VEKASY.